Never forget anniversaries again!!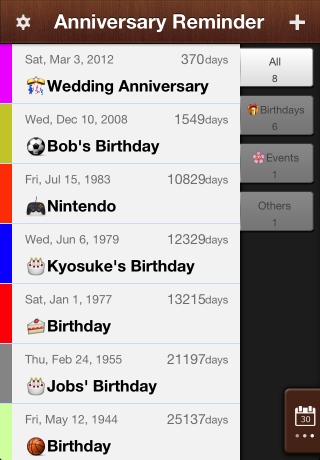 This app manages all the upcoming birthdays and important anniversaries, and reminds you of them in advance.
Not only keeping track of anniversaries which come once a year but also it can remind you of the 100 days or 1000 days from a specific event. For example, you can easily celebrate the 100th day anniversary of the relationship with your partner.
The anniversaries registered on the app can be also displayed on the iPhone calendar. If you are using the calendar app, this app is highly recommended to be on your device.
Convenient to mark anniversary with round numbers
Not many people may keep track of 100 days, 200 days or 1000 days anniversary from a certain event.
This app can manage to remind you of such hidden anniversaries. You may be able to celebrate a special day that you didn't even notice before.
Register the first date with your partner, wedding anniversary, your child's birthday or the day you first met your special person, and discover new anniversaries to celebrate.
Convenient to display on the iPhone calendar
When activating the "Display in iOS calendar" option shown on the settings, the "Anniversary Reminder" calendar will be created on the iPhone calendar.
You will never miss important birthdays and anniversaries as you manage them together with your daily schedule.
Screenshots for iPhone